Stikine River: a Guide to Paddling the Great River
by Jennifer Voss
The Stikine River, and its major tributary the Spatsizi, traverse some 640 kilometers of spectacular wilderness area in Canada's North Western British Columbia. This self-contained, comprehensive guide provides information for anyone planning a guided or self-guided paddling trip by canoe, kayak or raft. It includes general trip planning tips, and specific information on the route including 32 river maps, rapid descriptions, hikes, flora, fauna, geology and history.
(Contains 224 pages, 99 photos, 34 maps, and many sketches)
About the Author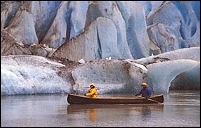 Jennifer (Jenn) Voss began canoeing at the age of 13 and has been organizing and participating in wilderness canoe trips for the past 20 years. She has a degree in Civil Engineering with a specialty in Hydrology and is a certified flatwater canoe instructor in the British Columbia. Jenn lives in Port Moody with her husband, Jan, and her cat, Psycho.
Ordering Information
CDN$16.95 ISBN 0-921102-57-7
Published by Rocky Mountain Books
www.rmbooks.com
Phone 1-403-249-9490
Also available through outdoors stores, and at lodges near the Stikine River.